Thinking about a Marquee Wedding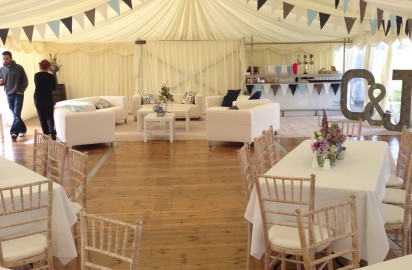 Marquee weddings have been a popular choice for a wedding venue in the UK. A marquee can set a spectacular scene and has several advantages over other venues
* Location – You can choose where to have your wedding  , may it be friends or family's gardens or a memorable place to the couple   , you can be clever with use of space
*Flexibility –  A venue that is suitable for larger weddings can be a problem , with a marquee you choose the layout, size & with a blank canvas to work with you can really make your wedding personal to you.
*Entertainment –  with a marquee there or no restrictions on time or noise so you can bring your party into the small hours with no complaints
*Catering – You have total control on who you would like to cater your wedding , many couples prefer informal weddings with BBQ`s or buffets which is not possible in many wedding venues.
* Budget – A marquee wedding gives you greater flexibility to work within your price range. If you have saved money on the venue you can spend extra on what you think is important and will make your day special.
We work with leading industry partners who can provide marquees for weddings or corporate events. We can work with catering that suits your budget whether a formal meal or casual buffet. We can provide champagne & canapes on arrival and hot food buffets in the evening – all catered for in our unique mobile kitchens. Let us really make your day a big occasion …….