Outside Catering Belfast City Hall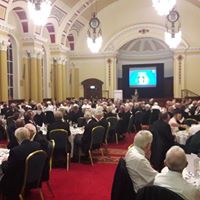 We seem to have taken up residence in Belfast City Hall recently!!
Here are some pictures of 3 of the most recent events for which we were delighted to have been chosen as caterers – NI Private Greens Bowling League centenary dinner, Rosario FC centenary dinner and a reception for Sarsfields GAC
If you would like us to make your event a BIG OCCASION, give us a call or send us an email. We dont just work in the City Hall !!!!!!